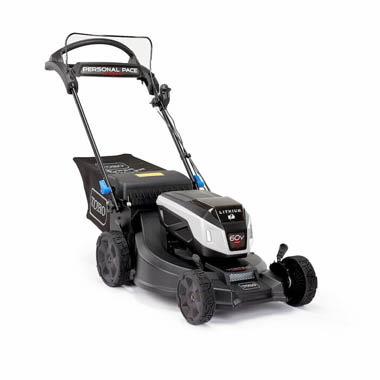 CLICK TO ENLARGE
NEW TORO 60V MAX 21 IN (53 CM) SUPER RECYCLER WPERSONAL PACE & SMARTSTOW LAWN MOWER WITH 7.5AH BATTERY WALK BEHIND LAWN MOWER
60V MAX 21 IN (53 CM) SUPER RECYCLER WPERSONAL PACE & SMARTSTOW LAWN MOWER WITH 7.5AH BATTERY
BRUSHLESS DC, 60V BATTERY L405 (7.5AH, 405WH)
---
OTHER FEATURES, SPECS OR COMMENTS:
TACKLE ANY JOB IN A SINGLE CHARGE WITH THE MOST POWERFUL BATTERY (L405) IN ITS CLASS AND MOW UP TO 50 MINUTES. PLUS ENJOY MORE POWER AND LONGER TOOL LIFE WITH A BRUSHLESS DC MOTOR.
WITH RELIABLE PUSH-BUTTON START AND LOW-MAINTENANCE BATTERY POWER, YOU'RE EQUIPPED TO GET THE JOB DONE RIGHT. FLEX-FORCE 60V* BATTERIES THAT HAVE INTELLIGENT SOFTWARE TO MAXIMIZE RUN TIME AND POWER.
MAKING ROOM IN THE GARAGE OR SHED FOR TOYS, TOOLS AND THINGS THAT REALLY MATTER, NOW FOLD, LOCK AND FLIP TO SMARTSTOW YOUR TORO AND SAVE UP TO 70%** MORE ROOM.
INTUITIVELY SENSING ENGINEERING POWERS TORO'S EXCLUSIVE PERSONAL PACE AUTO-DRIVE SELF-PROPEL TECHNOLOGY. WITH PERSONAL PACE, WHEN YOU GO, IT GOES, IN PERFECT HARMONY WITH YOUR WALKING PACE. JUST GRAB THE EASY-TO-STEER HANDLE AND GO. NO KNOBS, OR LEVERS. UP HILLS, DOWN HILLS, LONG STRETCHES, IT DOESN'T MAKE A DIFFERENCE. PERSONAL PACE DOESN'T PUSH OR PULL YOU AROUND INSTEAD IT PERFECTLY MATCHES YOU AND YOUR PACE.
WITH THE POWER OF VORTEX AIR INTAKE TECHNOLOGY, IT'S LIKE HAVING AN EF 5 TORNADO UNDER THE COMMERCIAL GRADE CAST ALUMINUM DECK. THROUGH TORO'S PRECISION ENGINEERING, VORTEX TECHNOLOGY PULLS MORE AIR INTO THE CUTTING CHAMBER, CREATING MORE AIRFLOW AND TIME FOR THE BLADES TO MINCE GRASS INTO ULTRA-FINE BITS THAT ARE THEN DRIVEN BACK INTO YOUR LAWN TO FEED AS LAWN VITAMINS, TRANSFORMING YOUR LAWN INTO GREEN PERFECTION. ONCE YOU GO VORTEX, YOU'LL NEVER GO BACK.
COLLECT MORE RICH, GREEN GOODNESS WITH TORO'S SUPER BAGGER. EQUIPPED WITH VORTEX TECHNOLOGY, MORE AIR INJECTED INTO THE CUTTING CHAMBER MINCES GRASS CLIPPINGS UNTIL ULTRA-FINE; PLUS WITH A COMMERCIAL-GRADE BAGGING TUNNEL, GRASS CLIPPINGS ARE BLOWN FURTHER INTO THE SUPER BAGGER, ALLOWING CLIPPINGS TO COLLECT FROM THE BACK OF THE BAG, ENSURING YOU ARE FULLY FILLING THE BAG AND EMPTYING LESS OFTEN.