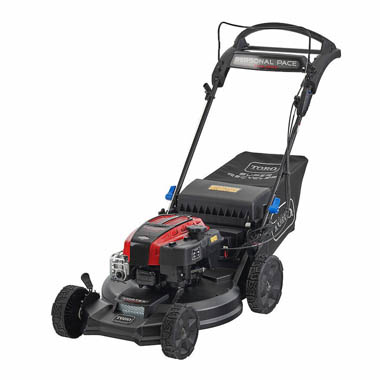 CLICK TO ENLARGE
EXTRA PHOTOS: 1 |
NEW TORO 21 IN. (53 CM) SUPER RECYCLER ELECTRIC START W/PERSONAL PACE & SMARTSTOW GAS LAWN MOWER WALK BEHIND LAWN MOWER
21 IN. (53 CM) SUPER RECYCLER ELECTRIC START W/PERSONAL PACE & SMARTSTOW GAS LAWN MOWER
8.75 FT-LB GROSS TORQUE* BRIGGS & STRATTON EXI 190 CC
---
OTHER FEATURES, SPECS OR COMMENTS:
EASY START - YOUR MOWER WILL START THE FIRST TIME, EVERY TIME, WITH A SIMPLE PUSH OF A BUTTON WITH ELECTRIC START. NO MORE PULLING CORDS!
WITH TOP-OF-THE LINE DUAL BLADE ACCELERATORS, DELIVER SAMURAI SWORD SHARPNESS, COMBINED WITH UNDER-DECK BUMPERS TO SHAVE DOWN CLIPPINGS INTO AN ULTRA-FINE MULCH, ADDING NUTRIENTS, LAWN VITAMINS, BACK INTO YOUR LAWN.
WITH THE POWER OF VORTEX AIR INTAKE TECHNOLOGY, IT'S LIKE HAVING AN EF 5 TORNADO UNDER THE COMMERCIAL GRADE CAST ALUMINUM DECK. THROUGH TORO'S PRECISION ENGINEERING, VORTEX TECHNOLOGY PULLS MORE AIR INTO THE CUTTING CHAMBER, CREATING MORE AIRFLOW AND TIME FOR THE BLADES TO MINCE GRASS INTO ULTRA-FINE BITS THAT ARE THEN DRIVEN BACK INTO YOUR LAWN TO FEED AS LAWN VITAMINS, TRANSFORMING YOUR LAWN INTO GREEN PERFECTION. ONCE YOU GO VORTEX, YOU WILL NEVER GO BACK.
MAKING ROOM IN THE GARAGE OR SHED FOR TOYS, TOOLS AND THINGS THAT REALLY MATTER, NOW FOLD, LOCK AND FLIP TO SMARTSTOW YOUR TORO AND SAVE UP TO 70% MORE ROOM.
EVERY COMPONENT OF THE SUPER RECYCLER IS BUILT TO LAST. THROUGH TIME-TESTED ENGINEERING, THE SUPER RECYCLER DELIVERS COMMERCIAL-GRADE RELIABILITY WITH CONSTRUCTION THAT THE PROS DEMAND, INCLUDING COMMERCIAL CONSTRUCTION CAST-ALUMINUM DECK, BALL BEARING WHEELS THAT REDUCE FRICTION AND EXTENDS THE LIFE OF YOUR MACHINE, PLUS AN ULTRA-SMOOTH MOWING EXPERIENCE, IT'S LIKE YOU'RE FLOATING ABOVE THE LAWN. QUITE LITERALLY, IT'S READY FOR ANYTHING. THIS IS THE BLACK KNIGHT OF LAWN MOWING.
INTUITIVELY SENSING ENGINEERING POWERS TORO'S EXCLUSIVE PERSONAL PACE AUTO-DRIVE SELF-PROPEL TECHNOLOGY. WITH PERSONAL PACE, WHEN YOU GO, IT GOES, IN PERFECT HARMONY WITH YOUR WALKING PACE. JUST GRAB THE EASY-TO-STEER HANDLE AND GO, NO KNOBS, OR LEVERS. UP HILLS, DOWN HILLS, LONG STRETCHES, IT DOESN'T MAKE A DIFFERENCE. PERSONAL PACE DOESN'T PUSH OR PULL YOU AROUND INSTEAD IT PERFECTLY MATCHES YOU AND YOUR PACE.