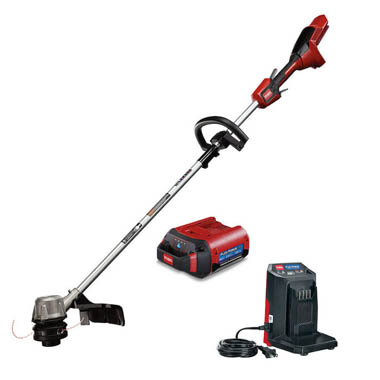 CLICK TO ENLARGE
NEW TORO 60V MAX 14 (35.5 CM) 16 (40.6 CM) BRUSHLESS STRING TRIMMER WITH 2.5AH BATTERY OTHER ATTACHMENTS
60V MAX 14 (35.5 CM) 16 (40.6 CM) BRUSHLESS STRING TRIMMER WITH 2.5AH BATTERY
60V MAX L135 (2.5AH, 135WH)
---
OTHER FEATURES, SPECS OR COMMENTS:
CUSTOMIZE PERFORMANCE TO MATCH THE JOB BY ADJUSTING YOUR LINE SIZE AND CUTTING LENGTH. OPTIMIZE FOR RUN TIME OR PERFORMANCE BY ADJUSTING LINE SIZE (.080 IN OR .095 IN) AND/OR CUTTING LENGTH (14 IN TO 16 IN).
SIMPLY THREAD THE LINE AND SPIN THE DIAL - NO SPOOLS NEEDED!
YOU'LL ENJOY SUPERIOR DURABILITY AND PERFORMANCE OF THIS TOUGH TRIMMER, WITH MORE MOTOR TORQUE AND A CAST ALUMINUM DIRECT-DRIVE HEAD.
ENJOY MORE POWER AND LONGER LIFE WITH A HIGH-PERFORMANCE BRUSHLESS DC MOTOR.
IT'S EASY TO MATCH THE PERFORMANCE TO THE JOB WITH VARIABLE SPEED TRIGGER AND TWO SPEED RANGES TO CHOOSE FROM
MAXIMIZE RUN TIME AND POWER WITH THE 60V* LITHIUM-ION SMART BATTERY.