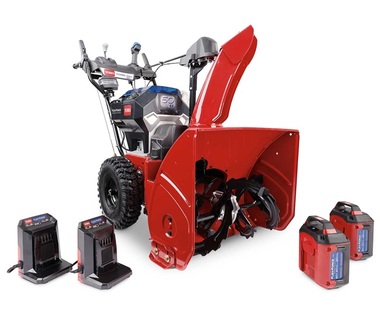 CLICK TO ENLARGE
NEW TORO 24 IN. POWER MAX E24 60V TWO-STAGE SNOW BLOWER WITH 6.0AH BATTERIES AND CHARGER WALK BEHIND SNOW BLOWER
24 IN. POWER MAX E24 60V TWO-STAGE SNOW BLOWER WITH 6.0AH BATTERIES AND CHARGER
60V MAX L324 (6.0AH, 324WH)
---
OTHER FEATURES, SPECS OR COMMENTS:
IDENTICAL TO THE GAS TWO-STAGE IN EVERY WAY, EXCEPT THE GAS - BUILT WITH LONG-LASTING, HEAVY-DUTY STEEL, QUICK STICK CHUTE CONTROL, AND MORE.
CLEARS UP TO 24 CAR SPACES IN UP TO 10" OF SNOW WITH TWO INCLUDED 6.0 AH BATTERIES.
HEAVY-DUTY, STEEL CONSTRUCTION. TACKLE YEARS OF TOUGH JOBS WITH CONFIDENCE THANKS TO STEEL CONSTRUCTION IN THE HOUSING, FRAME, DEFLECTOR AND CHUTE. THIS MACHINE IS BUILT TO LAST.
NIGHT VISION. HAVE A BRIGHTER AND BROADER VIEW WITH THE PANORAMIC LED LIGHTING.
PUT SNOW ANYWHERE YOU WANT. - WITH TORO'S QUICK STICK CHUTE CONTROL, YOU CAN AIM FOR THE EXACT SPOT WHERE YOU WANT TO PUT SNOW – WHILE KEEPING IT FROM BLOWING INTO YOUR FACE
USE ANY 60V MAX* FLEX-FORCE BATTERY TO POWER ANY AND ALL OF THE 75+ TOOLS IN THE ALL-SEASON LINEUP.