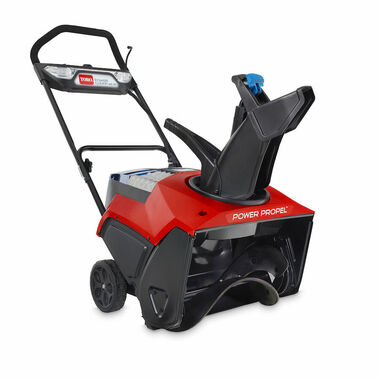 CLICK TO ENLARGE
USED TORO 21 IN. 60V MAX (10AH) ELECTRIC BATTERY POWER CLEAR SELF PROPEL SNOW BLOWER WALK BEHIND SNOW BLOWER
21 IN. 60V MAX (10AH) ELECTRIC BATTERY POWER CLEAR SELF PROPEL SNOW BLOWER
60V BATTERY L540 (10AH, 540WH)
---
OTHER FEATURES, SPECS OR COMMENTS:
CLEARS UP TO AN 15-PARKED-CAR DRIVEWAY ON A SINGLE CHARGE.
SNOWDRIFT STRENGTH - BUSTING THROUGH THICK, CRUSTY DRIFTS FEEL LIKE A SNOW DAY WITH ALL THE POWER TO BREAK THROUGH HEAVY, WET SNOW AND THROW IT UP TO 40 FEET.
POWER CURVE TECHNOLOGY SYSTEM CLEARS THROUGH COMPACTED SNOW, RIGHT DOWN TO THE BARE PAVEMENT.
POWER PROPEL TECHNOLOGY BLASTS THROUGH THE TOUGHEST DRIFTS AND CRUSTIEST SNOW. USE ITS MUSCLE WITHOUT TAXING YOURS.
USE ANY 60V MAX FLEX-FORCE BATTERY TO POWER ANY AND ALL OF THE 75+ TOOLS IN THE ALL-SEASON LINEUP.
DOWNLOAD THE MYTORO APP FROM YOUR MOBILE DEVICE'S APP STORE FOR EASY ACCESS TO PRODUCT RESOURCES, INCLUDING MANUALS, HOW-TO'S, AND MORE.