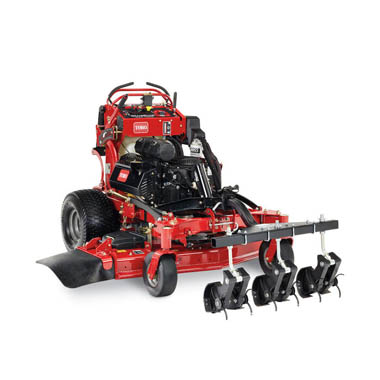 CLICK TO ENLARGE
NEW TORO MULTI FORCE AERATOR TURF-GOLF COURSE EQUIP
---
OTHER FEATURES, SPECS OR COMMENTS:
PUNCTURE UP TO SIX HOLES PER SQUARE FOOT WITH THE 38 IN WIDE AERATOR. TINES PIERCE DEEP INTO THE SOIL, HOOKING AND LIFTING LOOSE PLUGS OF DIRT THAT DISPERSE QUICKLY, SPREADING NUTRIENTS OVER THE SURFACE.
BORN TO PERFORM - BRING EFFICIENCY TO A NEW LEVEL AND AERATE 66,000 SQUARE FEET PER HOUR AT 5 MPH.
COMMERCIAL CONVENIENCE - OBSTACLES ARE NO MATCH FOR THIS AERATOR WITH SIX FLOATING ROTOR HEADS THAT LIFT INDEPENDENTLY, THREE CASTER ASSEMBLIES WITH FLOATING CAST IRON TINE ROTOR HEADS, AND SWIVEL CASTERS.
QUICK-ATTACH SYSTEM - EASILY ATTACH WITH MOUNT BAR AND TWO CLEVIS PINS.