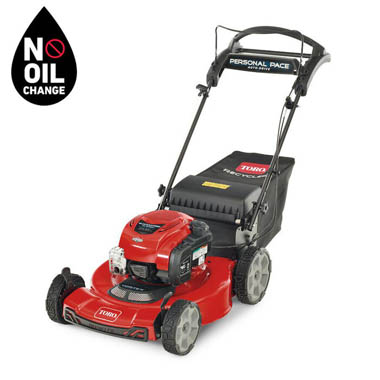 CLICK TO ENLARGE
NEW TORO 22 IN. (56CM) RECYCLER W/PERSONAL PACE GAS LAWN MOWER WALK BEHIND LAWN MOWER
22 IN. (56CM) RECYCLER W/PERSONAL PACE GAS LAWN MOWER
7.25 FT-LB GROSS TORQUE* BRIGGS & STRATTON EXI 163 CC
---
OTHER FEATURES, SPECS OR COMMENTS:
NO LEVERS, NO ADJUSTMENTS, NO LEARNING - THE SELF-PROPEL, EVOLVED.
THE ULTRA-FINE CLIPPINGS CREATED BY OUR RECYCLER CUTTING SYSTEM ARE LAWN VITAMINS, NOURISHING YOUR GRASS AND CULTIVATING A GREENER, MORE LUSH LAWN.
WITH A TORO, THERE'S NO OIL CHANGE - EVER. JUST CHECK THE OIL AND TOP IT OFF.
MOW MORE IN LESS TIME, SAVE TIME, FINISH FASTER, AND MAKE YOUR JOB EASIER. CUT A WIDER PATH WITH EACH PASS WITH AN EXTRA-LONG 22 IN. BLADE.
MANICURE YOUR LAWN TO YOUR SPECIFICATIONS WITH 9 CUTTING POSITIONS WITH 1-4 IN CUTTING HEIGHT RANGE. YOU CAN ALSO EASILY ADJUST TO 2 DIFFERENT HANDLE HEIGHTS.
ENJOY PEACE OF MIND KNOWING TORO STANDS BEHIND ITS MOWERS WITH A 3-YEAR GUARENTEED-TO-START ENGINE WARRANTY AND A 2-YEAR FULL WARRANTY. COUNT ON IT.