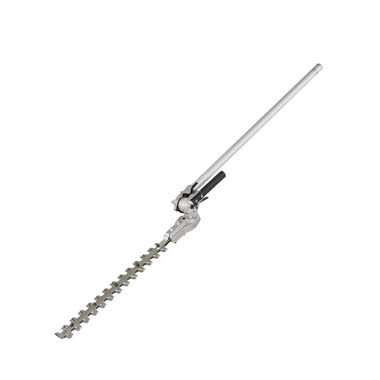 CLICK TO ENLARGE
NEW TORO 60V MAX 16 IN (40.64 CM) HEDGE TRIMMER ATTACHMENT - TOOL ONLY OTHER ATTACHMENTS
60V MAX 16 IN (40.64 CM) HEDGE TRIMMER ATTACHMENT - TOOL ONLY
---
OTHER FEATURES, SPECS OR COMMENTS:
ALL-METAL GEAR HOUSING OFFERS LONG-LASTING DURABILITY TO GET THE MOST LIFE OUT OF YOUR ATTACHMENT.
16" BLADE MEANS MORE COVERAGE AND FEWER PASSES TO SAVE YOU TIME
PART OF THE 60V FLEX-FORCE POWER SYSTEM. THE INTERCHANGEABLE BATTERY AND TOOLS THAT INCLUDE AMERICA'S #1 MOWER AND SNOWBLOWER BRAND, BLOWERS, TRIMMERS & MORE. POWERHEAD CAN BE EASILY SWAPPED OUT WITH MULTIPLE OTHER ATTACHMENT CAPABLE TOOLS, INCLUDING SAWS, EDGERS, AND MORE. IT POWERS THEM ALL.
PART OF THE TORO 60V MAX INTERCHANGEABLE 75+ TOOL POWER SYSTEM WITH ALL SEASONS POWER.
ENJOY PEACE OF MIND WITH A 3-YEAR LIMITED WARRANTY.
UP TO 3,000 STROKES PER MINUTE OF HEDGE THRASHING POWER TO GIVE YOU THE CLEANEST CUT ON YOUR SHRUBS.