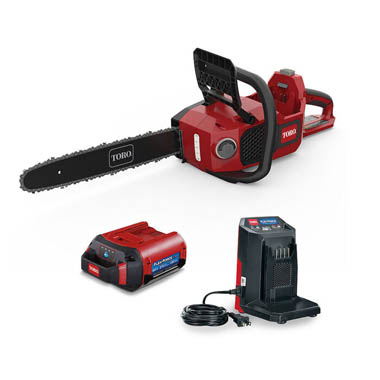 CLICK TO ENLARGE
NEW TORO 60V MAX* 16 IN. (40.6 CM) BRUSHLESS CHAINSAW WITH 2.5AH BATTERY OTHER ATTACHMENTS
60V MAX* 16 IN. (40.6 CM) BRUSHLESS CHAINSAW WITH 2.5AH BATTERY
60V MAX L135 (2.5AH, 135WH)
---
OTHER FEATURES, SPECS OR COMMENTS:
CUT THROUGH THICKER LOGS TO TAKE ON BIGGER JOBS WITH A 16" BAR AND CHAIN.
MORE POWER AND LONGER LIFE WITH BRUSHLESS DC MOTOR.
JUST PUSH THE BUTTON, AND PULL THE TRIGGER TO START.
MAINTAIN THE PROPER CHAIN TENSION FOR BEST CUTTING PERFORMANCE.
TENSIONING TOOL MOUNTS ONBOARD THE CHAINSAW FOR QUICK AND EASY ACCESS.
CUT THROUGH A 6 IN. X 6 IN. TIMBER UP TO 50 TIMES ON A SINGLE CHARGE.