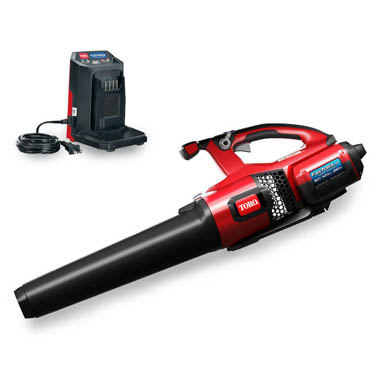 CLICK TO ENLARGE
NEW TORO 60V MAX 157MPH BRUSHLESS LEAF BLOWER WITH 4.0AH BATTERY OTHER ATTACHMENTS
60V MAX 157MPH BRUSHLESS LEAF BLOWER WITH 4.0AH BATTERY
---
OTHER FEATURES, SPECS OR COMMENTS:
FINISH FASTER - MOVE LARGE PILES OF LEAVES FASTER WITH 605 CFM OF AIR VOLUME AND 157 MPH AIR SPEED.
MORE POWER, MORE RUN TIME AND LONGER LIFE - HIGH-PERFORMANCE BRUSHLESS DC MOTOR OUTPERFORMS BRUSHED MOTORS.
3-YEAR LIMITED TOOL WARRANTY AND 3-YEAR LIMITED BATTERY WARRANTY.
PART OF THE TORO 60V MAX* INTERCHANGEABLE 75+ TOOL POWER SYSTEM WITH ALL SEASONS POWER.
REDUCE ARM FATIGUE AND TACKLE BIG JOBS WITH LESS EFFORT WITH CRUISE CONTROL FEATURE AND AN ERGONOMIC HANDLE.
GET MORE POWER WHEN YOU NEED IT WITH THE VARIABLE-SPEED TRIGGER AND TURBO-BOOST BUTTON.