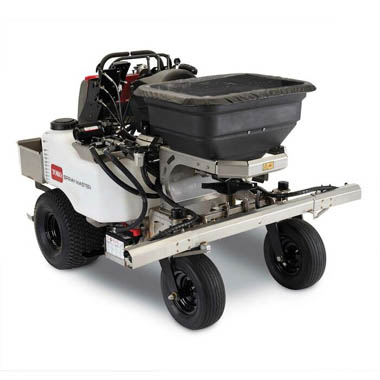 CLICK TO ENLARGE
NEW TORO STAND-ON 60 GALLON SPRAYMASTER TURF-GOLF COURSE EQUIP
STAND-ON 60 GALLON SPRAYMASTER
---
OTHER FEATURES, SPECS OR COMMENTS:
EASY-TO-USE CONTROLS DESIGNED WITH FEEDBACK FROM THE PROS, THE EASY-TO-OPERATE CONTROL PANEL ALLOWS THE OPERATOR TO CONVENIENTLY MAKE ADJUSTMENTS TO SPREAD AND SPRAY SETTINGS FOR A MORE PRECISE APPLICATION.
MAXIMIZE GROUND COVERAGE AND REDUCE RE-FILL STOPS WITH TWO 60-GALLON SPRAY TANKS, 250 LB. HOPPER CAPACITY AND A 5-GALLON FUEL TANK.
RIDE IN COMFORT AND REDUCE OPERATOR FATIGUE WITH THE LARGE STAINLESS STEEL OPERATOR PLATFORM WITH RUBBER COMPRESSION, ISOLATION MOUNTS AND A LARGER PADDED KNEE BOLSTER.
MAINTENANCE IS A BREEZE WITH THE FLIP UP HOPPER THAT PROVIDES EASY ACCESS TO THE ENGINE AND A MORE ACCESSIBLE LOCATION FOR THE BATTERY.
THE UPDATED APPEARANCE FEATURING LARGER WHEELS, IMPROVED HOPPER COVER AND CUSTOM-STITCHED KNEE BOLSTER FEATURING TORO'S BULLHORN LOGO ALLOWS YOU TO RIDE IN STYLE.
THE NEW DESIGN ALLOWS FOR SPRAY TANKS AND ENGINE TO BE LOWER RESULTING IN INCREASED BALANCE AND STABILITY AND LESS TURF TEAR UP.