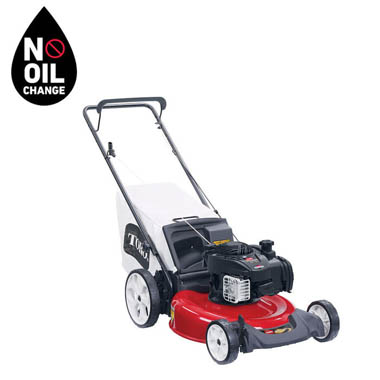 CLICK TO ENLARGE
NEW TORO 21 IN. (53CM) RECYCLER HIGH WHEEL PUSH GAS LAWN MOWER WALK BEHIND LAWN MOWER
21 IN. (53CM) RECYCLER HIGH WHEEL PUSH GAS LAWN MOWER
6.75 FT-LB GROSS TORQUE* BRIGGS & STRATTON 140 CC W/JUST CHECK & ADDâ"¢
---
OTHER FEATURES, SPECS OR COMMENTS:
21 IN. (53 CM) RECYCLER CUTTING DECK THE 21 IN. (53 CM) CUTTING DECK IS LIGHTWEIGHT AND MANEUVERABLE. THE SMALLER WIDTH ALLOWS FOR MOWING IN TIGHT AREAS.
BRIGGS & STRATTON ENGINE THIS TOUGH ENGINE DELIVERS 6.75 FT. LBS. OF GROSS TORQUE FOR POWERFUL PERFORMANCE.
11 IN. (28 CM) HIGH WHEEL THE 11" HIGH REAR WHEELS COMBINED WITH THE VARIABLE SPEED SELF PROPEL FRONT WHEEL DRIVE CAN TACKLE UNEVEN TERRAIN WITH EASE.
ONE PIECE ADJUSTABLE HEIGHT HANDLE THE SINGLE PIECE HANDLE CAN BE EASILY ADJUSTED TO 2 DIFFERENT HANDLE HEIGHTS WITHOUT THE USE OF TOOLS.
WE'VE GOT YOU COVERED ENJOY PEACE OF MIND KNOWING TORO STANDS BEHIND ITS MOWERS WITH A 3-YEAR GUARENTEED-TO-START ENGINE WARRANTY AND A 2-YEAR FULL WARRANTY. COUNT ON IT.
FEED YOUR LAWN THE ULTRA-FINE CLIPPINGS CREATED BY OUR RECYCLER CUTTING SYSTEM ARE LAWN VITAMINS, NOURISHING YOUR GRASS AND CULTIVATING A GREENER, MORE LUSH LAWN.