Berg
---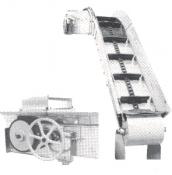 9104 Series Chain Conveyors
10 1/2" X 2 1/2" rubber paddles. Can move feed up to 80 feet. Heavy-duty 16 gauge incline hopper. 14 gauge top trough; 16 gauge bottom trough. Reversing options at no additional cost. Large cleanout holes at the idler end. Easy chain tightening.

Concave Belt Feeders
Concave belt conveyors feed, quickly over distances up to 200-feet. Drive units available with top and bottom motor mount. All shafts run in sealed ball bearings. Unique, deep-formed, .075-14-guage galvanized steel sides provide extra strength for longest spans and act as full-length hopper to reduce spillage. A concave belt carries more feed, faster, from storage structures to feeding areas than ordinary flat-belt conveyors.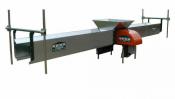 Shuttle Feeders
Engineered for high capacity and gentle feed handling. Your feed ration will be quickly and evenly distributed along your feed bunk or manger. Heavy duty long-lasting galvanized steel construction. Single automatic reversing motor with torque limiter protection. Fixed gear box drive unit drives the shuttle feeder smoothly. Long lasting feed belt.
---