Animat
---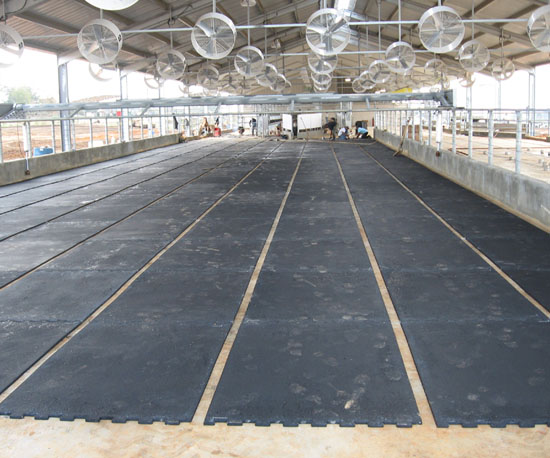 Interlock Rubber Flooring
The Interlock Rubber Flooring System's unique pebble-top design, manufactured using the highest quality 100% recycled rubber, provides excellent surface traction for all types of livestock. The mat adapts to any configuration or surface and can be installed virtually anywhere. Whether it's destined for a new or an upgraded facility, you will notice an immediate difference in the behavior of your cows when they are on the Animat's Interlock rubber mats. Cleaning Methods used can be alley scrapers, flush systems, manually hosing down the mats, scraping with a rubber tire scraper on either a skid steer or a tractor.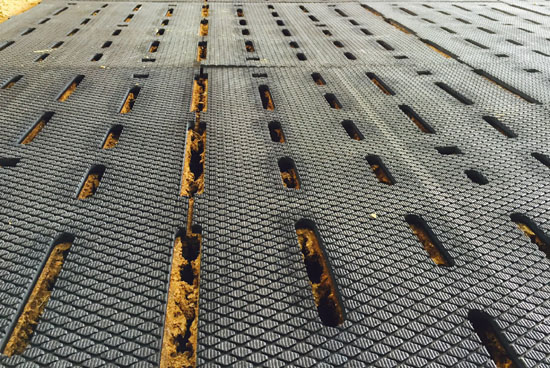 Maxgrip Mat
This high-quality rubber mat has been designed specifically for confinement barns where extra traction is the number one objective. Producers have requested mats with additional traction to overcome slippage in challenging applications. Therefore, this rubber mat has been designed to accomplish these goals and yet maintain the level of comfort that Animat provides for the maximum performance of your cattle on difficult floors. The diamond-shaped surface has been tested and is sure to improve your animals' confidence. Maxgrip rubber flooring for the slatted floor has an anchoring system that will keep the mat in place no matter what. It's an easy to install solution that has been tested and prove.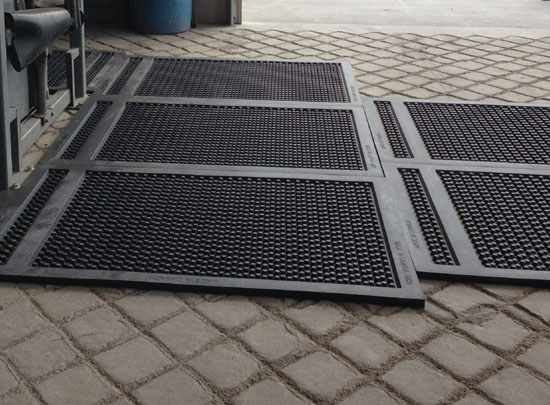 Chute Mat
The chute mat is a superior answer to the issue of injuries due to falls to cattle around cattle working areas. The chute mat is a 4'x 6' rubber mat with the surface covered with round studs of alternating heights. This surface instantly grips the hoof resulting in extreme traction even after many cattle have passed over the mat. The rubber studs will not injure the hoof as concrete and steel can. Most find that the mats do move very much, but fasteners can but used if needed. Chute mats are excellent in front of the chute; however, they can be placed in other areas of concern to reduce or eliminate injuries due to falls.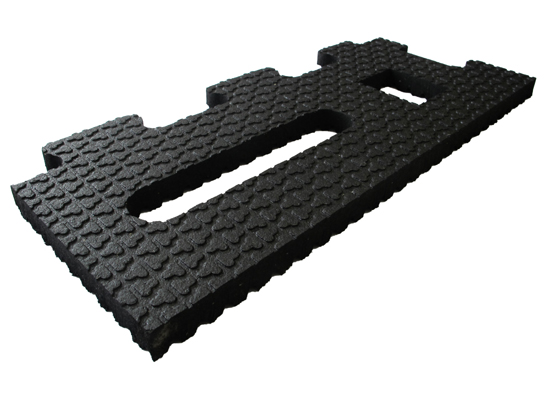 Transition Rubber Flooring
Animat's new product, the Transition Rubber Flooring System, represents the perfect solution for your calves. The Transition mat provides the comfort and security to allow your calves to grow strong with confidence and to perform up to their genetic potential. Specifically designed for calves under 500 lbs., the grooves under the mat bring maximum comfort.
Animattress I
Animattress I (nominal dimensions are 2" x 39" X 69") is an open cell foam pad that covered with a heavy-duty poly plastic. This pad is covered with a 3mm rubber top cover that completely and continually encases the pad the length of the run of stalls. This stall bed is used in all free stall applications. We have more than 90,000 of them in use throughout the world. Open cell foam can absorb moisture unless completely protected by a heavy poly "plastic" which keeps it dry. Over time with heavy use, open cell foam does not rupture and lose its resiliency like closed cell foam can. It retains its elasticity and ability to rebound much longer than other types of foam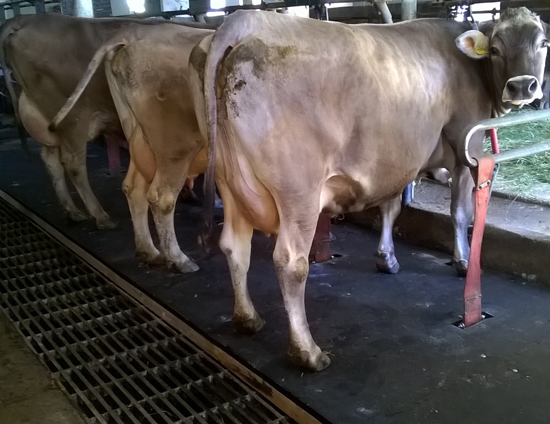 Animattress III
The Animattress III stall bed is a revolutionary mattress for your stalls. It was designed for tie stall barns specifically but can be used in free stall barns as well. It is so easy to install, you can do it yourself. The familiar pebble-top surface that is an Animat trademark is bordered by a sturdy rim and alternately-sized rubber cones on the underside for strength, support and comfort. This durable mattress will give you what you need the most in a tie-stall mattress. It supports the cow comfortably, is durable enough for the rigors a tie stall barn presents, provides superior traction, and is unaffected by moisture.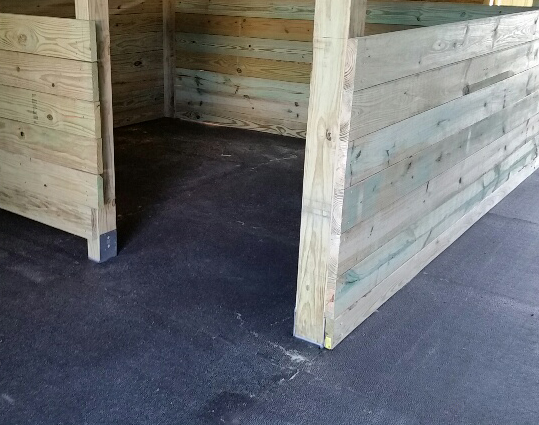 Horse Mats
Standing on a clean, soft, dust-free, secure surface gives you all that and more. Animat horse mat's a offers exclusive interlocking stall kits that provide increased comfort and security for your horses. Since they are made from 100% recycled rubber and are non-porous, our rubber mats are easy to clean and disinfect. The horse mat offers superb traction and shock absorption, which helps eliminate stress on legs and joints. You need rubber flooring for your trailer or van the Equine mat is the perfect solution.
---