Pre-Owned Equipment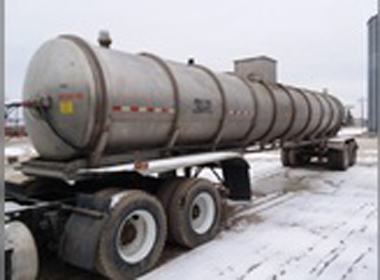 CLICK TO ENLARGE
EXTRA PHOTOS: 1 |
USED R BRAUN INC. SEMI TANKER MANURE TANKER
MAKER: R BRAUN INC.
MODEL: SEMI TANKER
YEAR: 1992
TAG#: 1143
SERIAL#: B180140
PRICE: $36,500.00
---
OTHER FEATURES, SPECS OR COMMENTS:
BAR-BEL STAINLESS STEEL MANURE TANKER. 7000 GALLON CAPACITY.
STAINLESS FRAME SUPPORTS, 6" FLUSH SPOUT AND BAFFLES.
20" ORBINOX VALVE WITH SPEED MANIFOLD.
DUAL 12" ALUMINUM PIPES AND A CAP.
DOT BUMPER. EXTRA AIR TANK. ALUMINUM WHEELS.
VERY NICE TANKER WITH ONLY A FALL SEASON OF WORK ON IT!