Inventory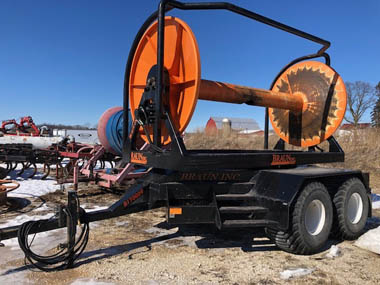 CLICK TO ENLARGE
USED R BRAUN INC 1012 MANURE INJECTION SYSTEM
MAKER: R BRAUN INC
MODEL: 1012
YEAR: 2017
CONDITION: VERY GOOD
TAG#: 1144
PRICE: PLEASE CALL FOR PRICING INFORMATION.
---
OTHER FEATURES, SPECS OR COMMENTS:
2017 RBI 1012 HOSE CART. OPEN SPOOL DESIGN WITH 180 DEGREES OF ROTATION. ROLL HOSE FROM THE FRONT OR THE BACK. HIGH CAPACITY DUAL HYDRAULIC MOTORS. DUAL AXLES WITH HIGH FLOTATION TIRES.
CAPACITY OF 1-1/4 MILES OF 10" AND DRAGS. 2 MILES OF 8" AND DRAGS!
PLEASE CALL FOR MORE INFORMATION!